If you are having a children's birthday party, call Limo Services in Maine today to assist you in making it a very special day. We cater to all ages. For the under 21 set, we can have juice and soda, a driver that is good with kids, and they will never forget the experience in their lifetime. We can go anywhere they like. One family brought all the kids to have a mini makeup session at a salon and took photos, then to the beach before a leisurely ride home. The entire time, the girls sang with enthusiasm.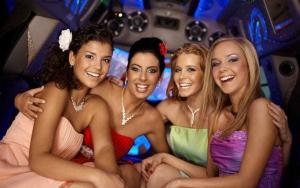 For the over 21 crowd, Birthday Limo Service has the perfect limo to take you and your guests out for a night on the town. Make parking and sober driving one less thing you have to worry about, as your private limo takes you wherever you want to go in on your birthday. Our vehicles come stocked with ice, glasses, water to stay hydrated, and… We know where the hottest clubs are and our knowledge of the nightlife and restaurants. We can take you to Boston or a secret club in the middle of nowhere.
We strive so that with our dedication to service we will exceed your highest expectations.  Imagine the look on the birthday friends face when they see you have booked a limo and it is all of a sudden there in the driveway waiting with a chauffeur, a smile and an open door. These are the moments that cement in your memory for a lifetime. Nobody forgets the day they were in a limousine.
Average rating:
1 reviews
Apr 17, 2017
birthday in Bath
We hired this service to provide a wonderful memory for our daughters 13th birthday. She and her friends were picked up after school for a chauffeured tour around town for 1.5 hours. It could NOT have gone more perfectly!My communication with Gabriel, from the get go, was fantastic. He answered calls and emails quickly, and I felt secure with the time frame and pick up place. He was friendly, and very helpful!The kids were BEYOND surprise and excited to see a shiny stretch Limo in front of school waiting for them! It was a huge hit, I cannot even tell you! We don't know if the kids talked more about the limo, or their wonderful driver, Peter! Peter was just great. He was even a little early , which was great, so we weren't as rushed as we planned... He was so courteous and kind. He never rushed the kids, had a warm smile, and even bowed in honor of the birthday girl as she entered the Limousine! (In all the excitement, we actually didn't even notice that until we watched the video, and it was so sweet to see) He laughed at their jokes, and made them feel so comfortable and welcome! It was just an absolutely wonderful experience!I have to admit, I did call around, and the prices here are the best around...which made me a teeny bit skeptical, but I looked up reviews, and heard so many good things , I went for it.We have a few more very special occasions coming up over the next few years, and without any doubt, we will ONLY call on these guys! And only if Peter is available :)THANK YOU SO MUCH FOR AN UNFORGETABLE EXPERIENCE!~ Gregg, Julie and Natalie Damon